Here you can see and read about my family!
BIRTHDAYS!

Mom - August 27, 1943
Dad - February 21, 1943
Donna - March 23, 1967
Chris - February 24, 1966
Bill - January 24, 1964 (my bro-in-law)
Billy - September 9, 1999
Sean - August 12, 2000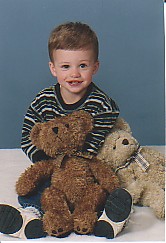 This is William Robert (Billy). He was born on September 9, 1999. He loves The Wiggles. He can sing in Hebrew! (One of The Wiggles songs is in Hebrew.) Billy enjoys going to the park, and if Sean is out of his sight, he says, "I'm going to look for my brother!".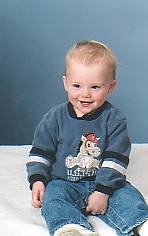 This is Sean Ryan. He was born on August 12, 2000. He is Billy's little brother and my godson. He loves The Wiggles. For a little guy, he is really strong. Don't try and take something out of his clutches...you will NOT succeed! Oh, and he'll tell you off, too. "No, no, no!". He reprimands Billy all the time.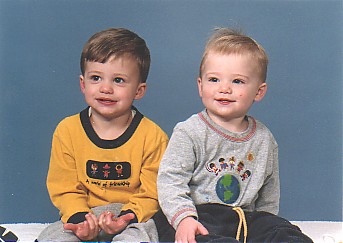 This picture was taken in January 2002. Billy is on the left and Sean is on the right.
This next batch of pictures are of my nephew Billy. They were taken on Easter Sunday, 2002. The first one was taken after his "soakie", so he had his pj's on, and it looks like he got a hold of my grandma's cane! :)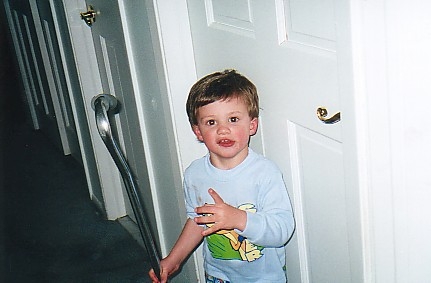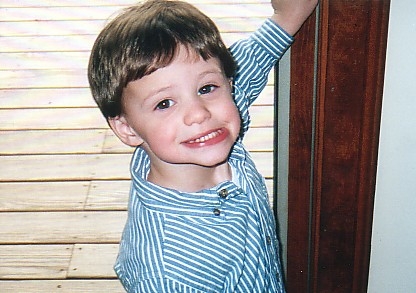 The next few pictures are of my nephew Sean, also taken on Easter Sunday, 2002. The last two are Sean with my sister Donna and then Sean with me! :)