Ever since I was young, I have always wanted to see CATS live. I used to see commercials for it and be fascinated. Well, after waiting a long time, my chance finally came on April 8, 2000!

We got tickets for the 2:00 pm show on Saturday, April 8, 2000. That morning I was just so excited! (It was very nice, too, because me term paper was due the day prior to that so I felt like I was being rewarded!) I went with my mom, dad, sister, grandma, and aunt. We got into the city at around 12:45 so we decided to just hang around outside the theatre. We went into the store "Backstage Memories" and I got a few souvenirs. We took a few pics outside the theatre then went over to the Winter Garden's next door neighbor, Starbucks, for some coffee and stuff. They finally started letting people in at around 1:30 pm, a half hour before the show was to start. I started getting butterflies in my stomach realizing that my long-awaited dream was about to become a reality. Needless to say, I dragged my family over to the line of people waiting to get in. Then it happened...

I finally walked into the Winter Garden Theatre after waiting so patiently yet zealously. I couldn't believe my eyes! You walk down a hallway and all of a sudden it's there...a huge junkyard! I had my eyes fixed on the stage while walking down to our 4th row seats (really great!). I sat down and just pondered how long I had been waiting to come and what a great first few minutes it had been so far.
About 20 minutes or so later...lights, camera, action!
Yeeesss! It's starting! The first act was so good and I especially loved "The Pekes and the Pollicles". The costumes were so great! One of the cats, I think it was Coricopat, sat right down next to me and put on his dog costume! The Rum Tum Tugger was cool, too. He came out and danced with some old woman! The first act was awesome!

Intermission was cool! I got to walk up onstage and there were cats up there. I got to see a few of them and they are pretty nice as people and as cats! I got an autograped poster, handed to me by Munkustrap himself! It is really cool how Old Deuteronomy sits so peacefully up in the center of the stage.

In the second act, Skimbleshanks was neat. I loved how they made the train out of all the junk on the stage! It was so cute! And during Mistoffelees' number, he ran down into the audience and when he went back up on stage he patted me on the head! The second act was very well done!

Everything I had waited for was all that I expected it to be. I just loved everything about the show and it was so worth going! I hope that I have the chance to see it one last time before it closes in September. I will remember it "Now and Forever".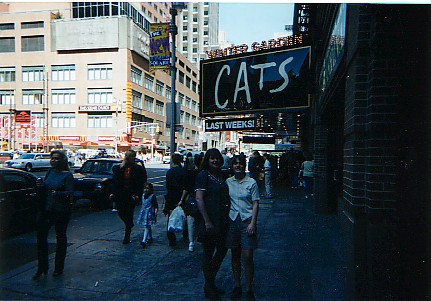 This is me and my sister before the Saturday matinee on April 8, 2000. I am on the right wearing the beige blouse.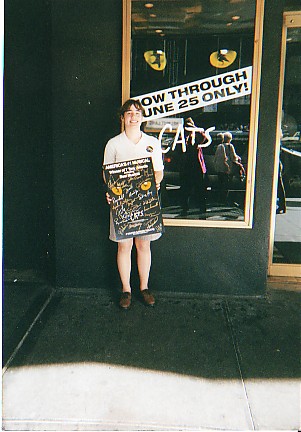 This is me after the April 8, 2000 matinee with an autographed poster I got during intermission.


August 27, 2000

I left my house around 12:30 and went to pick up my cousin. Me, my sister, and my cousin were going to the 3pm show. (In case you were wondering, the sister that went this time was my other sister.) We got into the city around 2:15. I was just so happy!

Anyway, when we got to our seats, they were much better than I expected. We had the first row of the mezzanine. For those of you who are familiar with the Winter Garden, there is a small ledge in front of the first row of the mezzanine that the cats crawl on, so it was pretty cool! We had had our playbills on the ledge and before the show started the usher came over and asked us to move them. I eventually found out why! There was an announcement made that a different person would be playing Old Deuteronomy besides who was listed in the playbill to play him. The show began...

The first and second acts were just as I remember them from last time, so I'm not going to spend much time talking about them. They were great! I loved every minute of it! But this time during intermission, I managed to get right in front of Old Deuteronomy! Boy, I don't know how anyone could sit so still! The lady that was up on stage next to him (she worked there) said that he was meditating and she also said that he thinks if he just sits there quietly the rest of the cats will come out, after they all run away from Grizabella, in the last song just before intermission. It was great!

After the show ended, I had the best time ever! We asked one of the guys working in the theatre if the cats come out. He said that they do but we would have to wait while they got changed. We went around to the stage door and one by one they came out! Me, my cousin, and my sister were right up in front by the stage door! I got pictures with Munkustrap (Jeffry Denman), Rum Tum Tugger (Stephen Bienskie), and Mistoffelees (Julius Sermonia). I got autographs from the above three, as well as Alonzo (Lenny Daniel), Sillabub (Jessica Dillan), Rumpleteazer (Maria Jo Ralabate), Coricopat (Billy Johnstone), Skimbleshanks (James Hadley), Tumblebrutus (Patrick Mullaney), and Demeter (Gayle Holsman). I also got a pen from Jeffry's mom! (I needed an extra).

This was the absolute greatest! My mom was talking to one of the ushers outside and she said (the usher) that she is very sure that it will, some time in the future, come back. I sure hope she is right.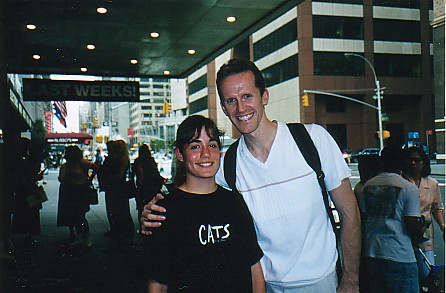 Jeffry Denman (Munkustrap) and me after the 3pm show on August 27, 2000.

Me and my cousin after the 3pm show on August 27, 2000.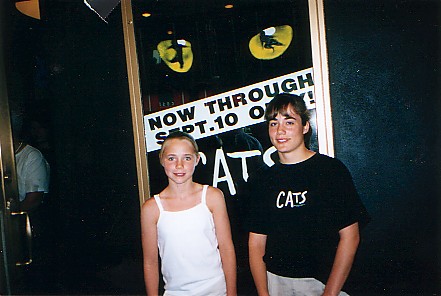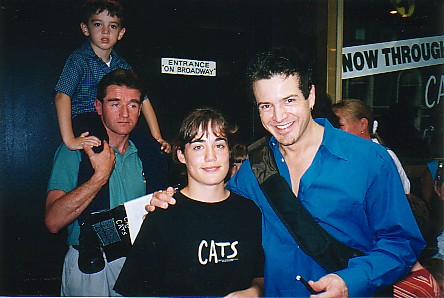 This is me and Stephen Bienskie (RTT) after the 3pm show on 8/27/00.
Harrah's Atlantic City, August 8, 2001 @ 7pm

The morning of the show I was very excited! I woke up at 7 am and headed to my aunt's house at 8:45. At around 10:30, we started out towards AC. The trip took about 2.5 hours.
We arrived at Showboat (where we were staying) around 1:30.
We checked in and headed up to unpack. Then we walked around the boardwalk for a while,taking in the sites. At around 3:45 we headed back to the hotel to get ready to go to the show.
We left for Harrah's at around 5pm. It was a 5-7 minute cab ride. We thought the open seating started at 5:30pm, but it started at 6pm instead, so we just hung around outside the theatre. At about 5:45 we headed in. There was already a line! When we got in, the usher came over to seat us, and I already knew where I wanted to be. Taking my father's advice, I said, "Hey, can I get a good seat?", and gave the usher a $10 bill. He said, "Sure thing. Follow me.". Well, that paid off because we followed him right to the FRONT AND CENTER! I could practically reach out and touch the cats! We had to wait approx. an hour for the show to start so we sat and chatted with the people with whom we were seated with at the table. I snapped a picture of the set, too! It came out GREAT, I think.
The show finally began. The sound, lighting, costumes and everything else about it was absolutely fantastic. The cast really sang and danced quite well. I was very impressed! In the first act, I especially loved Mungojerrie and Rumpletazer. Bryce and Susanna were outstanding! (Susanna Hirst was Emily Haag's u.s.) The tap in the Gumbie cat was so well done for a fairly new group of people! The girl cats at the end of RTT were so cute squealing at him! It had the whole audience laughing! And during The Naming of Cats, one cat had a staring contest with someone. It was amazing that neither of them started laughing, and they were doing it for a while. There was no Pekes, and no Bustopher. (Everything will be back for the rest of the tour, save Pekes). The Jellicle Ball was shortened.
The second act was just as good as the first. There was no Growltiger and Misto's number was shortened. My favorite part was Skimbleshanks. John Sechrist was so good. He had a great voice and performed his part so well. I loved it when all the cats wake him up in the beginning of his song! He had the cutest expression on his face! Mistoffelees was great too. McCree O'Kelley is a great dancer in that role! Well, Misto is one of my favorite cats. ;) It was great to be so close during the Journey to the Heaviside Layer. I could see all the way up into the ceiling where Griz goes! (Heaviside Layer). The smoke and lighting effects were great! I almost wanted to cry during The Ad-dressing of Cats. I didn't want it to end, and I just imagined myself sitting in the Winter Garden and it brought back alot of memories. :*(
After the show let out, I asked the usher if the cats would come out. He said no because they were in between shows and had to eat. He told me to come back after the 10pm show ended, around 11:45pm, and then they'd be there.
I did that, and met a whole bunch of cats! I got a chance to see Bryce Bermingham (Mungojerrie), Sara Schudde (Sillabub), Grant Turner (Munkustrap), William Hartery (Gus), Shylo Smith (Victoria), Jessica Lea Patty (Demeter), Ronnie Smith (Alonzo), Julie Garnye (Jennyanydots), Brad Barnes (Tumblebrutus), Everett Taylor (Plato/Macavity), McCree O'Kelley (Mistoffelees), John Sechrist (Skimbleshanks), and Susanna Hirst (u.s. for Rumpleteazer). They were all such nice people who seemed to get along quite well. I got a few pics, too. And I could tell Misto right away. He had such a distinct face. I said to McCree, "You're Mistoffelees, right? I can tell!" and he was like, "Yeah!" It was hard to tell who they were because their makeup makes a difference! Everett, Brad, and John were so funny together! They had me laughing so much, as you can see from the pic below! The roses were given to Everett (I think?) and they were joking around with them. Before my sister took the picture, John said he was "presenting " the flowers! See how he's holding them? When my sister was about to take the picture she said to them, "Can she pretend to be a cat? Jen, stick your leg out or something." I was like, "I'm NOT that flexible!" The guys thought that was pretty funny. :) It's true though. I can't lift my leg higher than 2 feet off the ground. It comes with training I guess. :P
I had the time of my life, thanks to everyone involved! Even though there was a very disturbing person in the audience who I do not care to discuss (e-mail me if you really want to hear about it) it was great otherwise. The effects, music, singing, dancing, set, and interaction with the audience was excellent! I enjoyed this production just as much as the Broadway production. That was comforting, too, being as though there is no more B-way show. And I will be seeing it again in West Point, hopefully more than once during that weekend.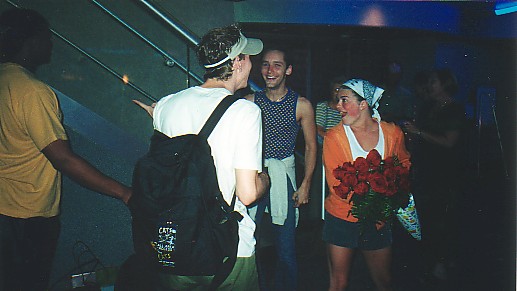 This is John, Brad, Everett, and Susanna fooling around with the roses, August 9, 2001.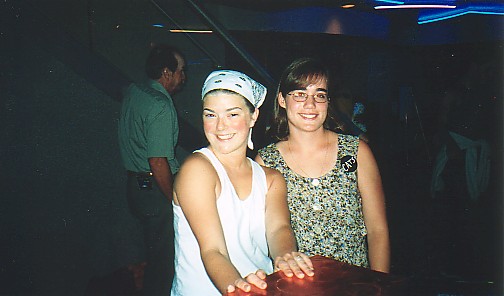 This is me and Susanna Hirst (u.s. for Rumpleteazer), August 9, 2001. She was so excited because she doesn't get to perform every night and she really enjoys it! (she played Rump that night)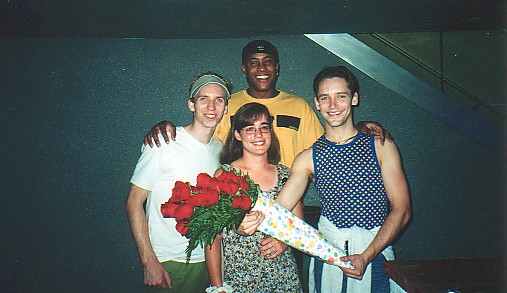 This is me, and from left ot right, Brad Barnes (Tumblebrutus), Everett Taylor (Plato/Macavity), and John Sechrist (cutie!) (Skimbleshanks), August 9, 2001.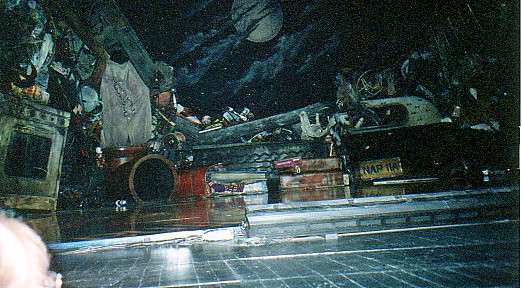 This is the CATS Tour set before the 7pm show, 8/8/01.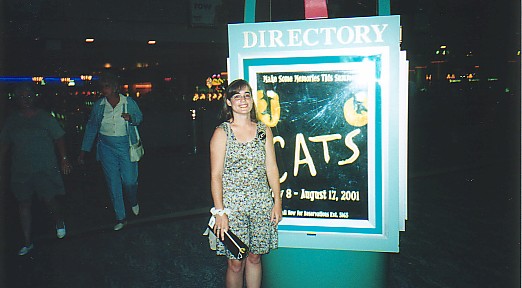 This is me near an advertisement for the show, August 9, 2001.

*I know I have the pictures dubbed August 9, 2001, and said the show was August 8, 2001, but we are talking the wee hours of the morning. So, technically, I was there (at CATS) for two days!*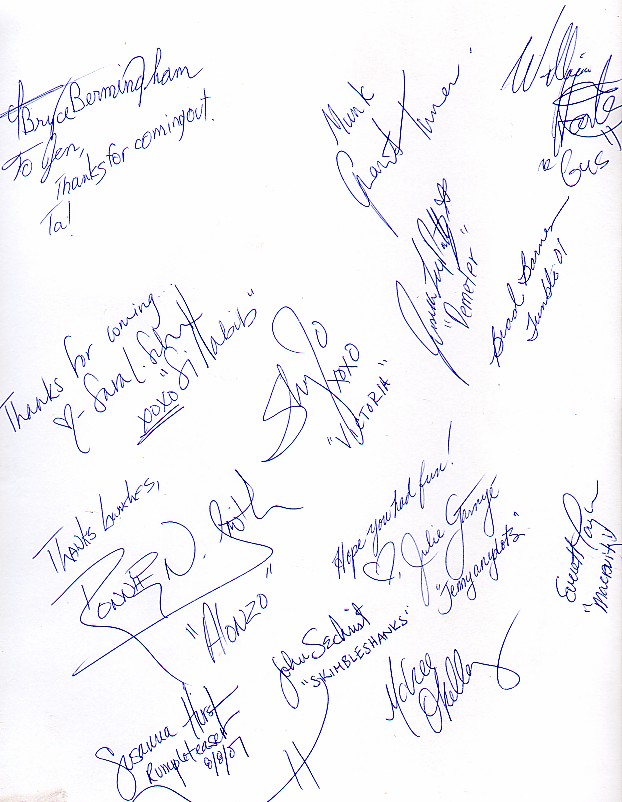 These are my autographs! That little smudge of brown makeup on the bottom left under Susanna's name is Alonzo's makeup!
January 25, 2002 @ 8pm - Eisenhower Hall Theatre, West Point, New York

This was the first time seeing the show again since August 2001 when I saw it in Atlantic City. I was so excited to see the tour again because I heard that the cast was even more spectacular now, and that they were!

I left my house en route to pick up my sisters at around 5:45pm. We were told to get there early because there would be heightened security (West Point is a United States Military Academy, I can understand why the security was so tight!). Anyway, we got there around 6:30pm with no troubles and went to eat something at the cafe on the 2nd (?) floor of the theatre. While standing on line,
I just happened to turn around and I saw two guys walk in with CATS jackets on. The only thing that registered in my mind was to think that they were just enthusiastic fans. Well, when we got to the register to pay, I turned around and they were right behind me. And what do you think their jackets said? Yup, "North American Tour"! They were cast members! My sister wanted to go up to them and ask them about their jackets. Both of my sisters refused to believe me about them being cast members. Against my wishes, one of my sisters went up to them and asked about their jackets (I didn't want to bother them!). Ross Cornell and Mike Ericson were the cast members, by the way.

We finally headed up to the auditorium around 7:30pm. I stopped at the souvenir stand to buy a program and a long sleeve shirt with a picture of the cats on the front (the video picture) and the CATS logo on the back. As for the price, we won't go there! :) Our seats were Orchestra Row G, Seats 305-307. I had an aisle seat! Although the cast really never came out. They didn't even do "green eyes"!
While we were sitting and reading our programs, we asked the usher about meeting the cast at the stage door. She said that she would have to go ask someone. When she came back she said that it wouldn't be possible. But nevermind that, continue reading! :) Oh yeah, when we got there, people were in our seats! But they moved without any problem.

Right before the show started, the understudy announcement was made. Munkustrap was played by Colin Cunliffe and Bombalurina was played by Nicole Johndrow. The show finally started and the overture was fabulous. I really enjoyed the lighting effects during the overture. The orchestra is only 5 pieces plus the conductor.

Jellicle Songs For Jellicle Cats was great. This cast can really dance. I love how William Hartery does the part about the "man" during The Naming of Cats. He's a great actor. By the way, this number was beautifully done. The cast really didn't come out in the audience that much, except for a few seconds at the end. When The Invitation to the Jellicle Ball started, I already knew to expect
Munkustrap to sing instead of Mistoffelees. Shylo Smith as Victoria is wonderful. She is really flexible. Shylo and McCree O'Kelley as Mistoffelees dance very well together. Colin Cunliffe as Munkustrap has a beautiful voice. I enjoyed his protrayal of Munk.

The Gumbie Cat was great. Jennyanydots came out of the oven instead of the trunk. I knew this already from Atlantic City. The tap dance during this number was great. The audience was really impressed. Dave Blonn as Pouncival was so cute as the first beetle! Pounce is first right? Munkustrap tried to put Jenny's jacket back on at the end of the number but she flat out refused! It was so
funny.

We all know the next number! :) Stan Stanley as Rum Tum Tugger is awesome. He is just so laid back and cool about everything. He dances very well, too. The audience was cracking up at the end when all the females are squealing at him. I love that part!

Grizabella interrupts the Tugger's spotlight. Nothing is really new here, except that Jessica Patty has a wonderful voice as Demeter and Gretchen Goldsworthy as Grizabella is probably the best I have ever heard!

William Hartery as Bustopher Jones had the audience laughing. He portrays the fat cat very well and has a beautiful voice. He seems so silly, but all the cats have great respect for him. At the end of the song, Bustopher kisses Jennyanydots' hand and she giggles. It was
so cute!

Ok, I just have to say one thing. Bryce Bermingham has a beautiful voice! He and his new Rumple, Pam Rainey, dance well together,too. I love the way they laugh after they mention the ming vase. It's hysterical. Her giggle in the beginning isn't as playful as Jo Gibb's in the video, but nontheless good. They are, after all, two different actors. Bryce's voice really fits the character of
Mungojerrie. What a BEAUTIFUL sound. :) They haven't quite mastered the cartwheel at the end, but they did a good job. I'm sure that it is so much harder than it looks. Credit is definitely in order.

I love Jarret Boyd as Old Deuteronomy. He has a great voice. There isn't really any noteworthy happenings during the song. It was very well done, though.

The Jellicle Ball is preceded by a Macavity scare. I really enjoyed this cast's energy during this number. It was danced very well. The audience seemed to enjoy it. It was the same as I remembered it.

Grizabella comes out once again and they all leave once again. I can't get over Gretchen's voice. I like her better than Elaine Paige and Betty Buckley. She sings Memory, then leaves the stage, realizing once again that she is unwelcome.

Intermission. My sisters went out to use the bathroom and one of them came running back in to get me because Mike Ericson was in the lobby. This was one of the cats that we saw in the cafeteria. He signed my book and we talked during the whole intermission. He told us that he has to hang around and wait just in case one of the actors he understudies for gets hurt. We had a nice chat. He is
such a cool guy. He's really nice. During our chat, Susanna Hirst and Brad Barnes came over. I got their autographs and told them of the pictures I had taken with them in AC. I didn't expect them to remember, of course, but they seemed really enthusiastic about
it. But then again, all CATS actors are gracious to fans. Intermission was drawing to a close so me and my sisters said our goodbyes to Mike and company and headed back into the auditorium.

By the time we got seated, the cats were already coming back out on stage. Old Deuteronomy began The Moments Of Happiness and then came Gus, who was played by the multi-talented William Hartery. He makes Gus what he really is. He acts old and frail, and even sings that way. Wendi Bergamini as Jellylorum has a beautiful voice. The two make the song flow and sound nice.

Growltiger was back in this show. They didn't perform it in AC, so this was my first time seeing the number since Broadway. I was never really a big fan of this number, but it was well done. Growltiger is played by William Hartery. When he laughs his sinister laugh, I thought the whole building was going to shake! It was a really loud, booming, intimidating laugh. The crew consisted of RTT (Stan Stanley), Mistoffelees (McCree O'Kelley), Alonzo (Ronnie Nelson), Munkustrap (Colin Cunliffe), and
Skimbleshanks (Warren Freeman). They were cute. When Griddlebone came out, they pretended to clean the floor before she walked on it! They sang in Italian for some of the song. I don't remember if they did on Broadway when I saw it, but I know they do it on the OBC album. If I remember correctly, the backdrop was different than on Broadway. As I said, I really don't care for
this number so much so I don't recall all the facts.

I LOVE Warren Freeman as Skimbleshanks. I was looking forward to seeing John Sechrist in West Point, and after I found out that he left the tour in December, I was a little bummed. Ok, a lot bummed! :) Warren was such a great Skimble. You should have seen the expression on his face when they woke him up in the beginning of the number! :) He had a great voice, great movements,
and he looked great in the Skimble makeup. This was always one of my favorite parts in the show.

Macavity was cool. The way he electrocutes himself at the end is enough to knock your socks off! He lets out this roar type noise. It's freaky. As I said before, Jessica Patty has a beautiful voice, and so does Nicole Johndrow. The fight is a lot more toned down than it was on Broadway. As I recall, Alonzo does more of the fighting on tour.

Then came my favorite part. Mistoffelees! McCree O'Kelley is one fabulous dancer. He had the cutest expression on his face when he was coming down the rope from up above. The conjuring turn was back in the production. I hadn't seen it in AC. I don't count
turns like some people do because I think it is being a little critical of the actor. The point is that they did the turns. If I counted the turns and told people, then it gives room to be judgemental, which isn't nice. :) Ok, let's stop the morality lesson! On with the
show. When he brings Old Deuteronomy back, he jumps into his arms so high that I thought he would keep going and fly over his head! :) Good job, McCree! I am sure that there is much more difficulty to that number than meets the eye. I think that is why I appreciate it so much.

Memory was beautiful. That voice again! It blows me away. When Grizabella belts out "Touch me", I got the chills. It is such a poignant song. The rest of the tribe accepts her, and she begins her "Journey to the Heaviside Layer". The tire appears just as I remember it from Broadway. To me, it is a very emotional ending.

The Ad-dressing of Cats was well done. The faces all the cats make when Old Deuteronomy sings about food are a riot. The cast really sounds great when they are singing all together.

The curtain call was great. Each one of the cats individually comes out. There were a couple of songs that were played, one being Mistoffelees. I always enjoy the curtain calls at shows. At the end, Tugger ran after Bombalurina! It was cute. :)

Ok, back to the issue of meeting the cast. We ran around Eisenhower Hall Theatre looking for the stage door for 20 minutes! As you probably can fathom, the ushers were absolutely zero help in this matter. Some responses were, "I don't know", "We don't have one.", "It is not accessible to the public.", "They won't come out that way.", etc. I wasn't buying it, none of it. Well, after asking everyone that looked like they had some seniority there, we finally found it. We were standing on line waiting for the shuttle bus, and who is behind us? Skimbleshanks! I don't know why, but he was. I don't know how I knew it was Skimbleshanks because Warren's
picture wasn't in the program. Hence, I didn't know what he looked like. I just had a sense. My sister asked for verification from him, and indeed he told me I was right! :) He was like, "Yeah, do I still have orange paint on my face?". I asked for his autograph, which he more than willingly gave to me, and my sister asked him about the stage door. He was like, "It's right up there." He directed us where to go. And guess what? They were ALL out there! Stupid ushers! :) We said thank you and goodbye to him (unfortunately! He was SOOO cute!) and headed up to see the rest of the cast.

We were about to walk up the steps to get to the stage door, when one of the ushers stopped us. He said we were more than welcome to go up but he didn't think there would be anyone there. Hello!!!!??? Was he blind or somthing? Geez. They were all over the place, standing around waiting for their bus. I met Wendi Bergamini, Gretchen Goldsworthy, Stan Stanley, McCree O'Kelley, David Blonn, Bryce Bermingham, Ronnie Nelson, Jessica Patty, William Hartery, and the actors from before, Susanna Hirst, Brad Barnes, Mike Ericson, and Warren Freeman. I also got pictures with Stan, McCree, David, and Bryce. I should have taken my camera out during intermission when I met Mike, but I didn't even think to do it. I wish I had gotten a picture with Warren. :(
Oh well. I'm happy with what I got. After all that craziness trying to find the door, I 'm lucky I even got there! When I asked Bryce for his autograph, he was like, "Let's make a trade!". (He was holding something that he asked me to hold while he signed the book
for me). I looked at it and was clueless. I finally asked him. I was like, "Bryce, what is this?". He told me it was a band for his muscles, I don't exactly remember. You can see it in my hand in the picture with him below. It kind of looks like a rolled up garbage bag.:) We said our goodbyes to the cast, thanked them, and left. Just as we were leaving, their bus pulled up, too. Hehehe, and while their bus pulled up, ours, well, it pulled away! So we were stranded because that was the last bus out! Ok, it was 11:00pm and we were lost at a miltary base. Great. Just GREAT. Lucky for us, we found a guy that was kind enough to give us a ride to our car, which was parked in the lot 5 miles away! It turns out that he was a worker on the show! He told us that since it was only a 5 piece orhestra, he works to make it sound bigger, using computer animated sounds. He asked us how he did and we told him it sounded great! Since it was a shuttle bus from the parking lot to the theatre, we really didn't pay attention to the route we took going to the theatre, so we had no idea how to get back. Well isn't this just freakin' embarrassing? This man was so nice. He didn't act pissed off, he just took it in stride. He told us that he would be lost even if he was by himself because he didn't know West Point from a hole in the wall! :) We had to ask the military people several times for directions, but that went over like a lead balloon. I was like, you freakin' work here and you don't know where to go? I didn't say that out loud because I was afraid of being shot dead in a rifle lineup or manuever practice. Me and one of my sisters were laughing and trying not to be so serious about it that it would ruin our evening. But my other sister didn't think any part of this was funny at all. So we finally got back to our car. The man said that he has children and he would like someone to help them if they ever got lost. He was so kind. When we got into our car, the fight began. My one sister started yelling at me and my other sisters. "You guys think this is so funny?", "Suppose that man wasn't there?", "You are so irresponsible!", etc. I ignored her, and she sensed that and yelled at me some more. My other sister told her to shut up. I was like, "This is a lovely ending to the evening.". We all got home alive, by the grace of God. I'm surprised one of us didn't get left for dead on the side of Route 9.:) LOL.

It was a wonderful trip. We had a lot of fun, except for the late night fiasco, so to speak. The show was wonderful, and I am so happy that I got the chance to meet the cast. They were all so nice, and I never would have gotten to the stage door if it hadn't been for Warren. Thanks, Skimble! I appreciate your help. :)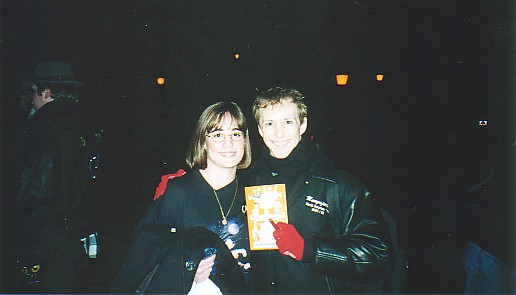 This is me and Bryce Bermingham (Mungojerrie) after the 8pm show on January 25, 2002.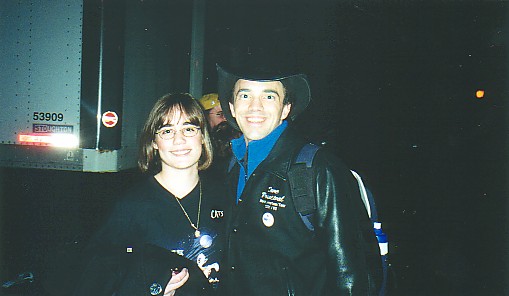 This is me and David Blonn (Pouncival) after the
8pm show on January 25, 2002.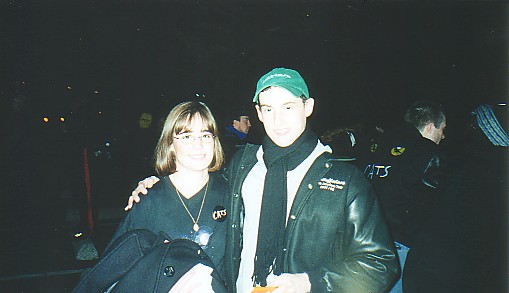 This is me and McCree O'Kelley (Mistoffelees) after the
8pm show on January 25, 2002.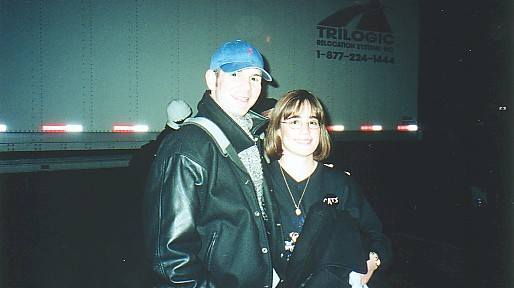 This is me and Stan Stanley (RTT) after the
8pm show on January 25, 2002.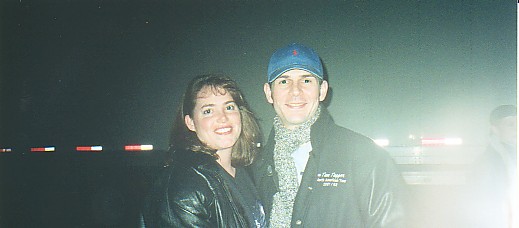 This is my sister and Stan Stanley (RTT) after the
8pm show on January 25, 2002.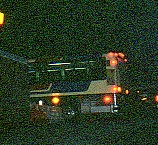 This is the bus that took the cast to the hotel.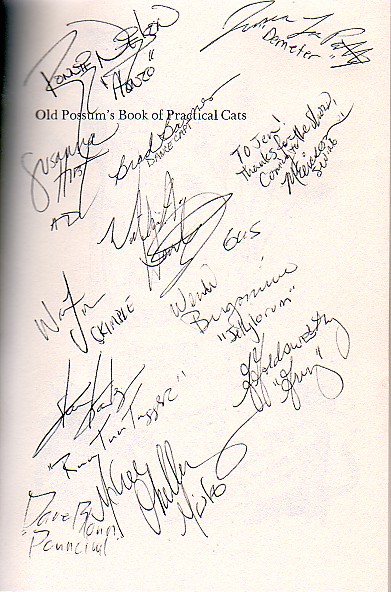 These are my autographs from January 25, 2002. Compare them to the ones above!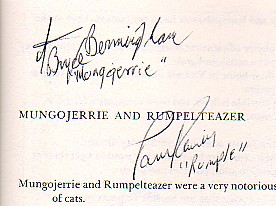 Bryce and Pam signed on their song! As you can see, the cast signed my copy of Old Possum's Book of Practical Cats!
January 26, 2002 - Eisenhower Hall Theatre - West Point, New York

This was my second night in a row seeing CATS. That had never been the case for me so I was quite excited! :) However, I was going by myself and kept hoping that I wouldn't miss the bus again, because this time I would be stranded alone.

Anyway, I left my house at around 5:45pm and headed to West Point. Getting there was not a problem as I knew the route from the previous night. I got to the gate at around 6:30pm and there was a line waiting to get in. I was on the line for about 20 minutes before I finally got to park my car and get on the shuttle bus to the theatre. I got on the bus and there were a lot of older people
and some little kids. I really didn't see anyone my age.

It took us about 10 minutes to get to the theatre. While I was on the bus, I was planning out my evening in my head. I was like, "Ok, so I don't get lost or miss the bus, I'll need to be here at such and such a time.", etc. Once we got there, I got off and headed up with the rest of the crowd. I went directly to the box office to pick up my ticket. This evening I had Orchestra Row S, Seat 310. By the time I had gotten to the box office, gotten my ticket, etc., it was 7:00pm. I decided to head up to the floor where the theatre was located. I went to the souvenir stand again because my aunt wanted the shirt that me and my sister had gotten the night before. While I was waiting to be helped, I started talking to this old man who was really nice. He told me that he loved the show, and this was his 4th time seeing it. He also had seen it in London! We talked about the London closing. He bought a poster and a shirt, I think. He was a nice guy.

The doors of the auditorium correspond to the section where your seat is, so I walked over to my section. While I was standing there, one of my high school friends walks by with a friend of his! I was so surprised. I asked them where their seats were, and they told me in Orchestra Row S. I was like, "What seats?". They told me seats 311 and 312! We were all seated together! How ironic was that? We hung out and I told them that I had seen the show last night and they asked me how it was. My friend was really big on the Bway production, and he was so worried that it wasn't going to be nearly as good. Me and his friend kept reminding him that that was Bway, and this is a tour. And it is comparable to Bway in my opinion. They started letting us in at 7:30pm.

I don't think that my friend was that impressed with the set. He really had his heart set on the good ol' Winter Garden Theatre! :) It was a lot smaller, but it looked the same. Our seats were ok. They were the far right orchestra so we had our vision of that side of the stage blocked off. Funny, because the night prior I had the complete opposite! We chatted for a while about what to
expect. The understudy announcement was made. Colin Culiffe would once again play Munkustrap, Nicole Johndrow was to play Bombalurina, and Karl Warden was Alonzo.

Everything was pretty much the same as I remembered it from the night prior, but a lot noisier. To put it mildly, the people in front of us never shut up, the people next to us never shut up, and the people behind us never shut up! And they weren't whispering either. They were flat out TALKING! It was so rude and annoying! After a while, my friend turned around and was like, "Excuse me, but you're being very rude.". And he said it politely. And the guy next to us thought EVERYTHING was a laugh riot. I don't know what he consumed before entering the show, but geez.

Once intermission began, the people that were sitting behind us got up and said to my friend, "How dare you talk to us like that? Grow up!". My friend told them that it wasn't "social hour". I was like, "OK, they are the ones talking through the whole first act of the show, and WE have to grow up?!". Get real. They never came back for the second act so that was a plus. The people
next to them were thrilled! LOL. I won't go into it really, but instead of Act 1 being "When cats are maddened by the midnight dance", it should have been "Who can talk the loudest and longest?". Instead of Act 2 being "Why will the summer day delay, when will time flow away", it should have been "Who can make a baby faster". The first act was full of talking and the second act was full
of making out.

ANYWAY, *AHEM*, yeah, um....where was I? The cast was really great tonight, too. I won't go through each number because it didn't change much, but they were just as enjoyable the second time around.

The show ended, and the curtain call was great, once again. Tonight, the cast got a standing ovation. Not everyone always participates in them, but I sure did. They definitely deserved it! And I HATE when people leave before the cast leaves the stage! That is the HEIGHT of rudeness! STAY FOR THE ENTIRE SHOW, THE CURTAIN CALL COUNTS TOO! And BTW, my friend LOVED the show! Karl Warden was an EXCELLENT Alonzo! Good job Karl!

I said my goodbyes to my friend and his friend, and I went to get on line for the shuttle bus. I didn't get to the stage door tonight. I didn't want to miss my bus; the line was so long. And plus the fact I was satisfied with what I got. I didn't really see anyone up there anyway.

I got home without any problem. I had such a great weekend, thanks to the cast of CATS. They all did such a great job. I was dreading going back to school Monday but oh well! :) I have a lot of memories to hold on to forever. I always do when I go to CATS. All I have to do now is wait for the Weschester Broadway Theatre production that I won tickets to back in early December! I have
a choice as to what show I use them on, but DUH! :)
May 19, 2002 - Westchester Broadway Theatre, Elmsford, New York

We got there around 3:45pm. We had about an hour and fifteen minutes to kill before dinner ( It was a good thing we left early because we got stuck in traffic for 45 minutes! ), so we just hung around and took pictures. We walked past a door and heard the curtain call going on, so we realized that there must have been a matinee as well. My friend asked if we were supposed to go in through that door. I was like, "Not if you want to end up on stage!". *lol* Oh, excuse us, we are here for the next show... Soon after, the matinee audience made their way out of the theatre. After the crowd cleared, we went inside.

After we went inside, we went to the souvenir booth. I bought a magnet that said "CATS, Live on Stage at the Westchester Broadway Theatre" and a polo shirt with the CATS logo in the corner on the front and a patch on the sleeve that said Westchester Broadway Theatre. It's nice. There was also a big sign in the lobby advertising the production. I took a picture of that, and then I picked up the tickets for me and my friend. At the counter I noticed that they had cast headshots up. They were fun to look at. I saw a lot of familiar faces! They also had understudy announcements. There were 3, but I can only remember 2! :) Suzanne Viverito was to play Tumblebrutus and Bret Shuford was to play Skimbleshanks. I was kind of bummed because I wanted to see John Sechrist as Skimbleshanks because I remembered him from Atlantic City when he was in the Troika cast. But anyway, read on! ;)

As we were standing waiting to be let into the auditorium, I saw Suzanne Viverito whiz by. I'm not sure where she was heading, but it was a surprise to see her. I actually had to do a double take. I guess I wasn't expecting that.

They started letting people in around 5pm. We were led up to our seats, Table 282, 35 feet from the stage in the dead center. They were great, I just wish I had been closer because I wasn't cat accessible. :( They came up to where I was, but I was in the middle of everyone. Oh, well. And what a small place! It only seats 449 people, but nontheless had no hindrance on the performance. I snapped a picture of the stage, so that is forthcoming. :)

Ok, do you want to hear about dinner? Well, you really have no choice! *lol* :) The service was wonderful and the food was delicious.
I had prime rib with green beans and a baked potato. My friend had roast pork with apples. For dessert, we both had peach melbas, which are a peach with vanilla ice cream, whipped cream, and some sort of fruity tasting sauce. It was very good.

After dinner and dessert, we had about 35 minutes to kill, so we went to the restrooms and came back. Then there was a hostess that came out on stage and announced birthdays and anniversaries. I thought that was a nice thing to do. At about 6:50pm, an announcement was made that the show would start in 10 minutes. We were both excited and I was getting my usual butterflies! :)
Then a 5 minutes, and then a 2 minutes announcement was made. The show finally began.

Overture -
The lights were strung up all around the theatre and there was a "fence" around the perimeter with eyes on it. It looked so neat. The dynamics were wonderful and the lighting was intensely brilliant. The cats came out doing "green eyes". I was so glad to see that again. ( When I saw the show in West Point in January, they didn't do "green eyes". ) The audience seemed to enjoy this. I always believed that it was a good way to start the show; with a little thrill and a little surprise!

Prologue: Jellicle Songs For Jellicle Cats -

One by one, the cats came out, even from holes in the stage floor. These holes reminded me of a jack-in-the-box. The cats popped out as the lid opened and scared the daylights out of the people in the front rows. It was during this song that I realized that the Understudy announcements must have been from the matinee show. Rob was Tumlebrutus and John was Skimbleshanks! The cast was great - everyone was in step.

The Naming of Cats -

This number was well done but a little different from what I had expected. Instead of standing in a cluster at the start of the song, they were spread out around the edges of the stage. The cast came out into the audience and did their usual staring contests with some of the audience. Pronunciation was good during this number.

The Invitation to the Jellicle Ball -

Just like the National Tour, Mistoffelees does not sing here. Munkustrap does. This I was expecting just because I had seen it not too long ago on tour. I actually like it better when Munkustrap sings because he is more "in charge" than Mistoffelees and he seems more suitable to invite...ok, you can smack me now! *lol*

The Old Gumbie Cat -

Janet Saia played Jennyanydots quite well. She really fitted the role. Instead of rolling out of the oven like she did on tour, she came out of the trunk as on Broadway. They did the tap dance, which was very well done and the audience seemed to enjoy it. At the end of the song, Munkustrap tried to put her big coat back on but she kept dodging him! It was cute. The beetlt costumes were different than on Broadway. Then again, most if the costumes were! Different does not mean bad.

The Rum Tum Tugger -

When he came out, he yelled "Surprise!"! *lol* That was the first time I heard that. Kevin Loreque was the Tugger, and I think he did a pretty good job. He had the females going wild and seemed to have the dance down pretty well. The cast as a whole was great during this number as well. It looks like a lot of fun!

Grizabella: The Glamour Cat -

As always, Grizabella is shunned and rejected as she appears on stage. I loved Stacia Fernandez's performance. She was very much into the role and emotional. When one of the cats tricked her into getting close to him (like Pouncival on the video) and then scratched her, she didn't just flinch but she let out a gasp. I thought that that gave it more feeling. She also has a pretty voice, as does Julie Tolivar as Bombalurina and Gayle Holsman as Demeter. I actually think Gayle has a wonderful voice.

Bustopher Jones: The Cat About Town -

Buddy Crutchfield was great as Bustopher. When he sat down on the top hat, he went "ooh". (like when you just fall into a chair). It was funny. He's got a nice voice, too.

- MACAVITY SCARE -

Mungojerrie & Rumpleteazer -

Joe Abraham and Renee Bonadio made a good pair for this number. They seemed to work well together, had great voices, and were really up to the dance routine for that number. I must say, they did a great job with the double cartwheel at the end.

Old Deuteronomy -

Aside from Ken Page, Erick Devine has got to be my favorite Old Deuteronomy. He has a great voice! The costume is a little different. The ears are really tall! The perfect personality and the perfect size for Old Deuteronomy.

The Jellicle Ball -

This number, as always, amazed me. Just listening to it on the recording makes me tired! This cast did a great job of pulling it all together and dancing in step. A few people around me were actually in awe that they had done that twice that day!

Grizabella -

Stacia once again gave a great performance. What a great actress!

-INTERMISSION-

The Moments of Happiness -

Ok, now I am remember the story Rio (?) told on the forum about this song, and I am cracking up! If you don't know what I am talking of, never you mind! ;) Anyway, Erick sang beautifully as well as the rest of the cast. I think this number is really where the show begins to take form, as far as plot goes. Gus came out, as always, before this song. Sillabub (Renee Bonadio) has a nice voice. I prefer her to the Sillabub currently on the National Tour.

Gus: The Theatre Cat -

I was so happy to see Jellylorum performed by Jean Arbeiter again! I loved her on Broadway, as she was just as great this time around. I wish I could sing like her. Buddy Crutchfield is also great as Gus. He really acts the part: old and frail. Whe you feel sorry for Gus, that shows that you are really feeling his sadness, and that means the actor is getting you involved in what he is performing, and that's good.

Growltiger's Last Stand -

He was good as Bustopher, good as Gus, and he was good as Growltiger. And Jean was good as Griddlebone. They both
have nice operettic (is that a word?! :) ) voices. I always get a kick out of "the Crew". They were cute. I believe it was Alonzo, Skimbleshanks, Mistoffelees, and Munkustrap. The Siamese at the end were cool. Has anyone else noticed that when they sing, they add "a's"? For example, "And closer still and closer, the sampans circled round-a...and yet from all the enemies there was not heard a sound-a...". I don't exactly know what to make of that, but anyway... At the end, Gus goes back to his present existence, and then quietly exits the stage. He got nice applause from the audience, encouraged by Jellylorum.

Skimbleshanks: The Railway Cat -

My friend will probably laugh at this one, because she has a joke about me that I will never live down. Alright, so I think John Sechrist is cute! Happy?! *sigh* Now let's forget about my teenage girl woes and get on with it! :) John was a great Skimble, exactly as I remembered him from Atlantic City. This has always been one of my favorite numbers, so I am always happy to see it performed well. I have never seen someone with so much energy. Boy, am I going to get an earfull from my friend. ;) Taking that into consideration, I will now put my foot in my mouth. *shuts up*

- MACAVITY SCARE -

Macavity: The Mystery Cat -

Carmichael Blankenship was a great Macavity. Gayle and Julie was great as Demeter and Bombalurina, respectively. I didn't remember Gayle's performance from Broadway because I had only seen her once. The other times I had seen Celina Carvajal as Demeter. She is another one with a great voice. The fight is a lot more toned down than on Broadway, as many of you know. On Broadway, Alonzo spins Macavity around, but not here. Then again, no one could match Lenny and Keith. Macavity shocks himself at the end. That was loud. If you weren't expecting it, it may have come as a bit of a shock, and I think I can speak for the old lady that was sitting next to me! :) The lights go out, and the spotlight is shone on the spot where Macavity was, but "Macavity's not there!".

Mr. Mistoffelees -

Ok, brace yourselves, because now is when the "action" starts. *rolls eyes*. This is also one of my favorite parts in the show, so I was happy, as always, to see it. But midway during the song, a loud "beep, beep, beep..." comes on. Like ear piercing! The cast just had funny expressions on their faces, like "what the hell is that?!", but they continued to sing. Actaully, one of the actors looked at another and just shrugged as if to say to them "I don't know.". Well, it turned off after about 35 seconds. But right after the conjuring turn, which by the way was fabulous - at least 40 turns! - the beep came back. What do you think it was? That's right! The damned smoke alarm! This time a voice came over the loud speaker saying, "I'm sorry ladies and gentleman but we need to evacuate the building. The fire department has been notified and they are en route to the theatre. Cast, please leave the stage.". I WANTED TO JUMP OUT OF MY SKIN!!!! I was so bummed! They can't throw us out now! But it was funny, because when the guy came over the loud speaker, some of the cats started hissing at it! Always in character! :) *lol*. We all evacuated, and while we were all walking out, there were rumors flying around that either Mistoffelees' pyrotechnics or Macavity's big shock at the end of his song started a fire backstage. It wasn't true, I don't think. It was freezing out, and the poor cast had to go out in just those unitards! I feel bad for them. :) I didn't see them. They were probably in the back parking lot by the stage door; not in the front where we all were. Anyway, when we got in, I was disappointed to see that many people had left. The theatre was half empty! I guess they figured we wouldn't go back in, or maybe it was a good opportunity to get away because they didn't like the show! *lol* :). The finished up Mistoffelees' number and continued from there. I still don't know what caused the alarm to go off.

Memory -

This tune always was, always is, and always will be haunting. And the way in which Stacia sang it was unbelievable. It is a very hard song to sing, and she does a good job. Come to think of it, I really have never heard a Grizabella that I haven't liked.

The Journey to the Heaviside Layer -

This is the part of the show that will, in my opinion, go down in history. The complete spectacle of this scene has always been so awesome to me. That's why I love the show. Spectacle can be a magical thing. The part was performed quite well and Grzabella walks up a staircase to the Heaviside Layer (as on the video), she doesn't go up on a "flying saucer".

The Ad-dressing of Cats -

Erick Devine really makes Old Deuteronomy. I love his portrayal. He has a wonderful voice, and he and the rest of the cats have some cute facial expressions during this song, especially when he sings about food!

THE CURTAIN CALL -

This is always a fun part of the show, and I HATE when people leave before it or during it. It is so disrespectful to the actors, as well as to the rest of the audience who are trying to applaud the actors and enjoy the rest of the performance. Yes, that IS part of the performance, in my opinion. :) Each cat came out to the tunes of different numbers in the show, and at the end Tugger chased Bombalurina off the stage. That was fun. :)

I had a great time, as always. The cast was wonderful. I think my friend enjoyed herself, too. My family plans on going to see it, so I am happy to say that I will get to see it again! I want to take advantage of that because this is the last New York run for years to come. If you get the chance to come see it, take it! I highly recommend it to all. :)
This is my ticket from the show .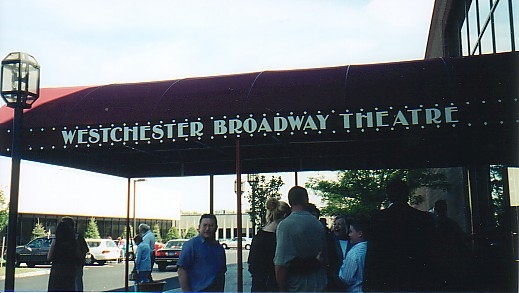 This is the awning in the front of the theatre. I took this before we went in.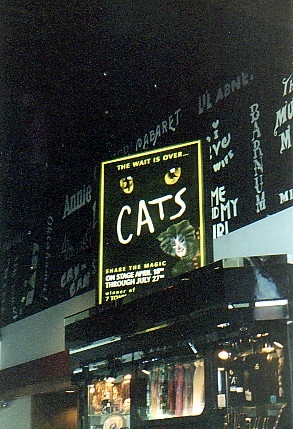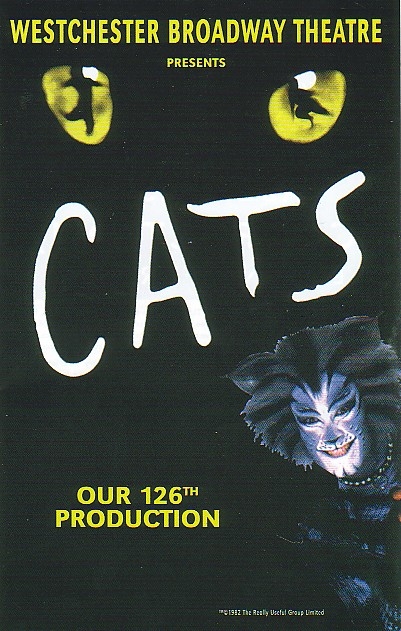 This is the cover of the program.
Westchester Broadway Theatre - July 27, 2002
This is going to be short, really short, because I don't feel the need to go through every song again.:) The show was great, we got there with no problems, and me, my sister, and two friends had so much fun! I bought a poster, too. And got about six free tattoos! They're cute! And a couple of souvenir glasses. :) The food was excellent and the people were very friendly. And guess what? We didn't have to evacuate this time! *LOL* Anyway, I am sure that you would all love to see some stage door photos, so scroll down! :) The cast were all so kind, and we all more than willing to stop for pics and autographs, even though they had their arms full of bags of their items from backstage. (The show was closing the following day, so I am assuming that all the stuff they were carrying out were their personals.)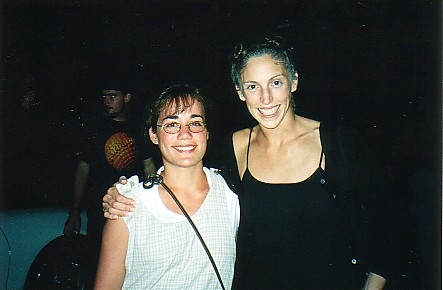 This is me and Tina Moya ( Cassandra, Asst. D.C.), 7/27/02.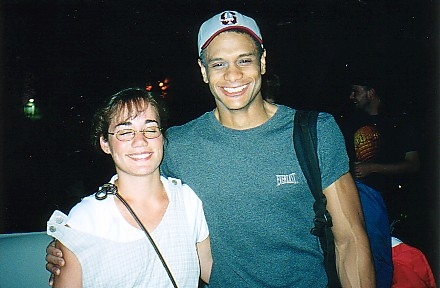 Me and Carmichael Blankenship (Plato/Macavity), 7/27/02. I swear I wasn't falling asleep!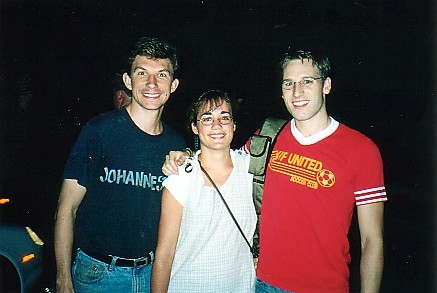 Michael Etzwiler (Swing), Me, and Joey Abramowicz (Tumblebrutus), 7/27/02. They were so nice! :)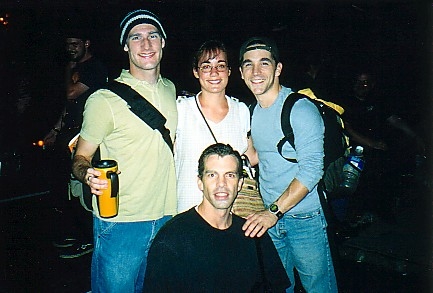 Jeff Lewis (Mistoffelees), Me, Joe Abraham (Mungojerrie), and Shaun Parry (Alonzo). What cuties! :)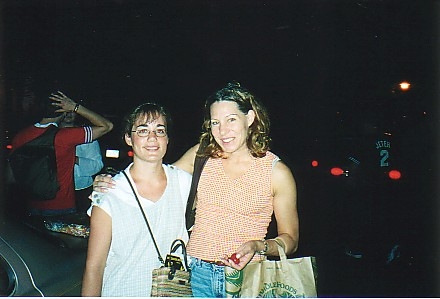 This is me and Janet Saia ( Jennyanydots), 7/27/02.